Warning
: Trying to access array offset on value of type null in
/var/home/hobbies/public_html/wp-content/plugins/contextual-related-posts/includes/content.php
on line
49
Warning
: Trying to access array offset on value of type null in
/var/home/hobbies/public_html/wp-content/plugins/contextual-related-posts/includes/content.php
on line
49
A floor lamp is a lovely and practical source of light that you can use or add to almost any part of your house. Aside from their remarkable functionality, these lamps also affect and set the mood of the entire room.
If you're looking for a way to spruce up your interior, here are the most popular types of floor lamps that you can add to your shopping list.
Arc floor lamps are a certified staple mid-century design for modern lighting. These beautiful floor lamps are now making a resurgence as part of contemporary interior design. These lamps are distinct with their long arching bodies that hold a shade and light bulb at the end, usually above a sofa. These lamps need lots of space because they will only look out of place in small living rooms.
Club Floor Lamps
A club floor lamp is considered the most basic design available. With a light bulb surrounded by a simple lampshade and a solid base, you can easily find these floor lamps in various designs and styles to fit most home decor.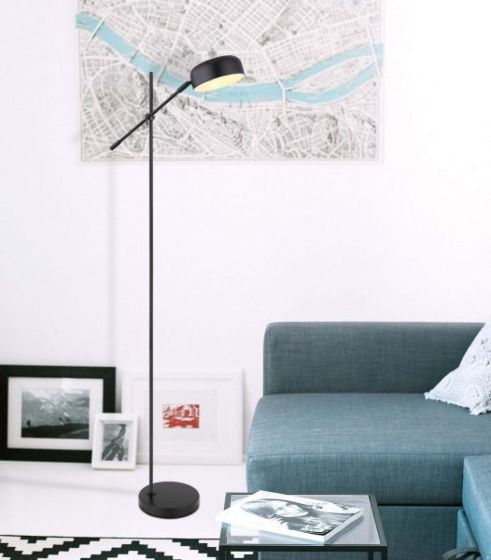 Down Bridge Floor Lamps
Down bridge floor lamps are task lights that stand up with the base starting to curve at the very top, slightly dropping the lampshade lower than the lamp's height. It's a great style to put beside an accent desk or chair because the light is directed to a lower level than usual. 
Pharmacy Floor Lamps
A pharmacy floor lamp resembles the down bridge since the light is also directed downwards similar to a task lamp. But the difference here is that it is more adjustable horizontally and vertically alike. You can often lower or raise them as necessary or even let the head swing back and forth depending on where you want it.
Six-way Floor Lamps
Six-way floor lamps provide multiple light bulb sources under a single lampshade. This is a great option if you want to light up a huge space and you can use all the additional light available. The floor lamp is also often referred to as a candelabra lamp because it resembles the traditional candle-holding candelabras.
Swing Arm Floor Lamps
Swing arm floor lamps are made up of a lampshade and column base similar to their club counterpart. But there is a little adjustment made to the column base's upper part that lets the lamp swing right or left as needed. The lamp's horizontal movement makes this perfect above a desk or accent chair so light can be directed anywhere it's needed.
Tripod Floor Lamps
Tripod floor lamps have a different base often made up of three columns working together to hold the bulb and lampshade upright. It's a somewhat modified version of standard single-column floor lamps that give your space a touch of character.
Torchière
Torchière is a famous floor lamp design whose name is taken from the French term that means torch, which happens to be the ancient way of lighting a room before the invention of electricity. The lamp features a straight base and a triangular shade directing the light upwards.
Similar Posts From The Same Category: