Warning
: Trying to access array offset on value of type null in
/var/home/hobbies/public_html/wp-content/plugins/contextual-related-posts/includes/content.php
on line
49
Warning
: Trying to access array offset on value of type null in
/var/home/hobbies/public_html/wp-content/plugins/contextual-related-posts/includes/content.php
on line
49
Buying used beekeeping equipment is your best option if you're hoping to save some cash as you embark on your journey as a beekeeper. But there's one serious catch here, though. This decision can end up costing you more than necessary if you make a lot of mistakes. Just like any purchase, shopping for used equipment for beekeeping is something that you should tread with care.
The good news is that there are many things you can do to prevent unnecessary expenses on your part. For starters, you have to make sure right from the get-go that your second-hand equipment isn't infected with any disease that might spread among your bees.
Whether you like it or not, this risk is very real and it can happen, especially if you have bought used bee hives and components that weren't cleaned properly beforehand.
Check out the tips below on how to buy used equipment and gear for your beekeeping venture:
Used Beekeeping Suits 
Beekeeping gear, specifically beekeeping jackets, and suits should be washed and sanitized before they are put up for sale. However, expect that some dark stains due to propolis might be more difficult to remove.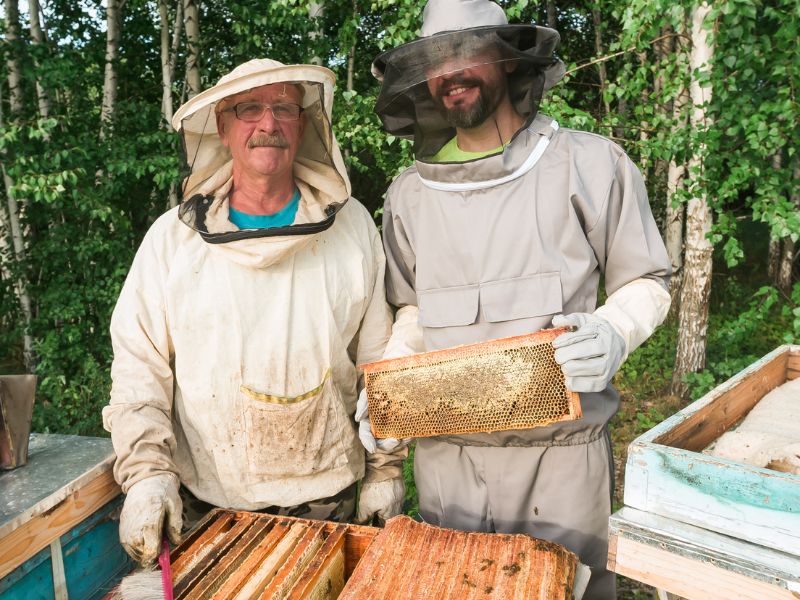 If you have plans to buy used beekeeping clothing, make sure that both the hat and the suit are still in satisfactory shape and condition. They shouldn't have any signs of excessive wear and tear, nor should they have any holes, no matter how small.
Used Extractors
Extractors are another area where it might be more cost-effective to opt for used beekeeping equipment to save expenses. It also includes other pieces of machinery required for preparing honey. Just make sure that you follow the necessary steps for cleaning and sterilizing these pieces. Doing so will significantly lower the risk of contamination.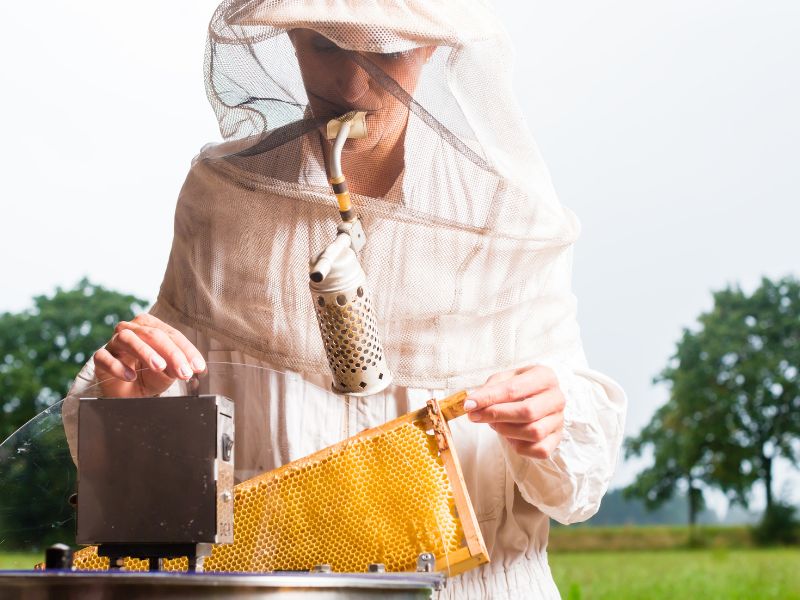 Used Beehive Tools
You can use either heat or chemicals to sterilize hive tools. This is made possible by their plain metal construction. However, there are also hive tools that feature wooden handles that could be porous and may also harbour spores, bugs, and others. In such cases, you have to be extra careful. Or better, you might want to avoid buying them second-hand, especially since you can get new ones at affordable prices. 
Used Beehives
Buying used beehives is a completely different story and this might be a bit challenging for a new beekeeper. After all, the beehive is where the colony will stay. It's also the very place where diseases and pests may arise. This is why you have to make sure that you only buy used beehives that are guaranteed clear of both pests and diseases. To stay on the safe side, it's best and safest to buy only from reputable sellers or beekeepers in your area. 
It's also imperative that you only shop for second-hand hives from apiaries that are free from diseases. But how will you know if they are indeed disease-free? Before anything else, make sure you ask about the inspection history of the used hive that you're planning to buy. If you also want to buy the hive together with the bees in it, it will also work in your favour if you request a honey culture test that will allow you to assess the current state of health of the entire colony.
Remember that there is no definite guarantee that you will buy used beehives. It means that a seller might sell something that he truly assumes to be a disease-free and clean hive when in fact, there could be some foulbrood spores inside that he isn't aware of.
The seller might not be able to give you complete assurance that the bees will be disease-free, either, since he doesn't have any control over the health of the bees you will decide to put in the hive. For all you know, the bees themselves might be infected with a disease that hasn't surfaced or you didn't notice just yet. Of course, there will always be honest sellers who will understand your situation and switch the faulty hive with a safe one.
It's also common for novice beekeepers to be clueless about the right price for second-hand beekeeping equipment such as hives. Since wood is the main material that makes up beehives, the specific time when you can use them effectively will depend a lot on how you keep them safe from exposure to the different elements. For instance, treating them with oils or painting them over may help lengthen their lifespan.
Constructing the hive yourself is often a great alternative to buying used ones, particularly if you wish to save money and time. While not everyone has the know-how and skills for building beehives, doing so often results in more savings along the way.
Used Smokers
You won't be facing a lot of issues if you get your smokers second-hand. After all, this beekeeping tool doesn't come into direct contact with your hives too often. The high temperatures they produce also help ensure the elimination of any possible contamination. So if you want to save money, go ahead and buy a used smoker.
The Rising Number of Used Beekeeping Equipment 
There are specific times of the year when beekeeping may end up taking too much of your time. This is especially the case during early summer when inspections for swarm prevention are necessary. Late summer is also a busy time because this is when extracting and jarring take place.
Once they realize that it takes more hard work than they assumed, many beekeepers end up throwing their hands in the air and surrounding what they thought to be a pleasant and easy hobby. As a result, many of them end up selling their equipment.
Before you know it, the market is already saturated with all sorts of second-hand gear and tools for beekeeping. These increasing numbers are quite understandable, especially once you learn that beekeeping is indeed no easy feat.
So if you have plans to venture into this field, make sure you're up for the challenge. And to keep your costs down, shopping for used beekeeping equipment might be a great step to get started.
Similar Posts From The Same Category: