Warning
: Trying to access array offset on value of type null in
/var/home/hobbies/public_html/wp-content/plugins/contextual-related-posts/includes/content.php
on line
49
Warning
: Trying to access array offset on value of type null in
/var/home/hobbies/public_html/wp-content/plugins/contextual-related-posts/includes/content.php
on line
49
One of the most important aspects of beekeeping is honey harvesting. Intelligent guesses always have some room for error and this is the reason why tools for harvesting such as honey refractometers for beekeeping can come in handy.
What are Honey Refractometers?
Refractometers are tools used for moisture measurement. These are used in different industries and are available in all sizes and shapes. While their name may sound like they are complex beekeeping equipment pieces, it doesn't really take rocket science to know and understand how these devices work.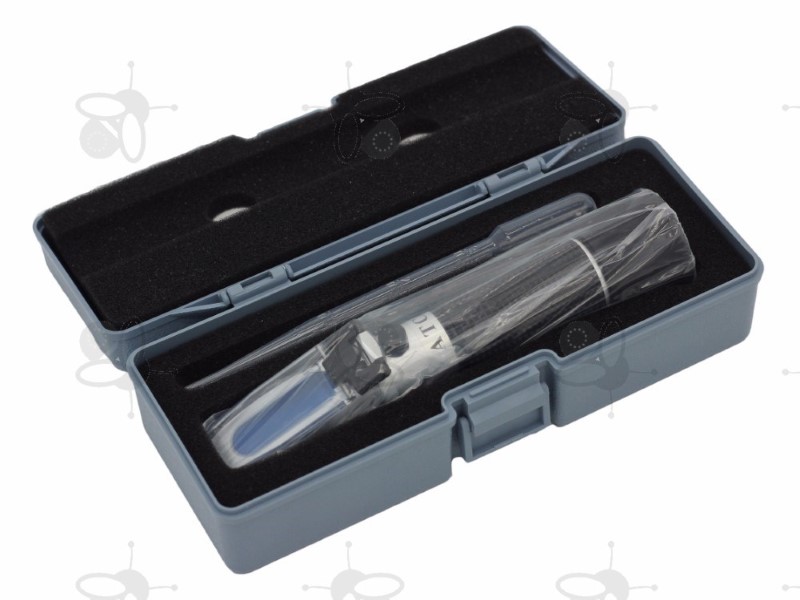 The moment light passes through materials or substances such as water or glass, its direction will change and this is what is known as refraction. Refractometers measure the specific degree at which the light changes once this has passed through the liquid.
After establishing the refraction degree, the refractometer is going to compare this with the predetermined refraction index or nD. It will show you the concentration of liquid being measured.
The liquid's temperature affects the refraction indexes. Majority of refractometers make use of the Brix scale measuring liquids calibrated to the concentration in the water.
Every liquid has its own unique index. This is where the specialized refractometers can come in handy.
Beekeepers use honey refractometers to measure the concentration or volume of moisture in the honey to guarantee the best level of extraction.
The unfiltered honey will be flowing from the extractor and the wax and honey will be poured on the strainer.
This step is important to ensure that the honey will be ripe enough for harvesting and storing in jars. It is a must to invest in a quality honey refractometers if you plan to sell the honey you harvested. The FDA regulates both the honey and its water content. Your product needs to meet the standards of the industry or you might end up getting into trouble otherwise.
Tips to Choose the Right Honey Refractometers
While there may be a simple science behind honey refractometers, choosing the right one for your needs might be a completely different story. The last thing you want is to end up buying a tool you won't be able to use in the first place. Before splurging in honey refractometers, here are some important things you need to consider.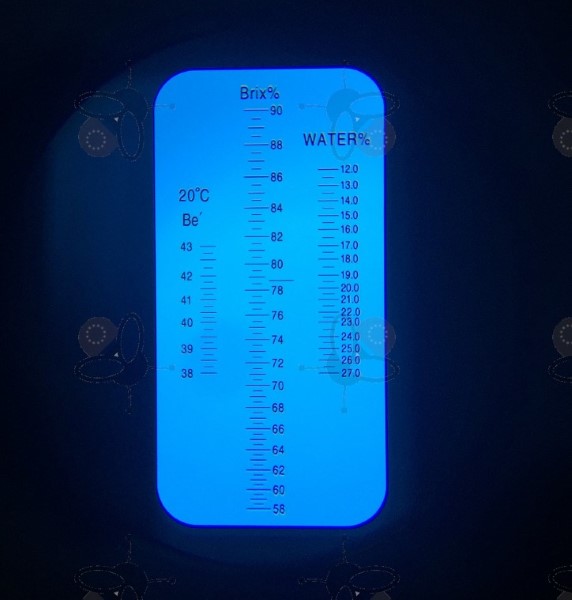 Different Types of Refractometers
Refractometers have four primary types and these are analog, digital, inline processing, and laboratory. Laboratory refractometers are those used in medicine. These are unsuitable for something as small-scale or simple as honey testing, which means there is no need to bother with them. Meanwhile, inline processing refractometers are the ones used for continuous measurement of moisture in water tanks and pipes.
You might want to go for handheld digital or analog honey refractometers for beekeeping. Even if these two have the same result, the process of testing will be different.
In traditional or analog refractometers, you need to manually insert the sample prism or plate. After everything is put in place, you need to aim the refractometers at the external source of light so that you can see the scale. Manual calibration is necessary for analog refractometers as well.
This manual calibration is eliminated if you are using a digital refractometer. The only thing you need to do is put a drop of the sample on the refractometer. It already has its very own source of light and the meter translates the reading to a refraction index.
Requirements for Honey Refractometers
This might sound a bit confusing yet honey refractometers have a different function than usual refractometers. Many refractometers using the Brix scale measure the solids percentage in the liquid. These come in handy to measure sugar content, for instance.
It doesn't happen with honey-specific refractometers. What they do is measure the water amount in the honey, which is the exact opposite of what non-specific refractometers do. When using a Brix refractometer, you can still measure the honey's moisture but you need to do some math for better accuracy based on the specific form of refractometer you are using.
The general rule of thumb here is for you to use the refractometer that is made exactly for what you are trying to do. Every time you choose one, be sure that you use one especially for honey. Specifications are suitable for more accurate readings that can make a big difference.
Although you get one that is not specifically honey refractometers for beekeeping, you can be sure that you won't buy one that will not work.
Choose a refractometer that features temperature control. You also have to ensure that your chosen refractometer is appropriate for the Gradient II solutions. Simply put, it means that this can measure moisture in the translucent liquids such as honey.
Basically, what you need is an inexpensive and lightweight tool that is easy to operate. Never skimp on quality as it can make the tool effectively useless and inaccurate.
How to Maintain Honey Refractometers
Taking care of honey refractometers is as effortless as using them. Once you purchase one, this will typically come with a protective storage box or carry case. As long as you handle the device with care, it will reduce the chances that it will get damaged.
One thing you need to ensure is for you to take extra care when dealing with the prism. You need to keep this properly covered then pack it away safely when it is not in use. Scratches on the prism might interfere with the readings you make.
Finally, always make the effort to clean your refractometer. Use a lens tissue for wiping the prism after each use to prevent build up, inaccurate readings, and stickiness.
The Bottom Line
Honey refractometers for beekeeping are underrated but essential tools for beekeepers who want to sell or produce good quality of consumable honey. Investing in this tool is also necessary if you plan to harvest commercial-grade honey. These are affordable devices that can make a big difference in honey operation.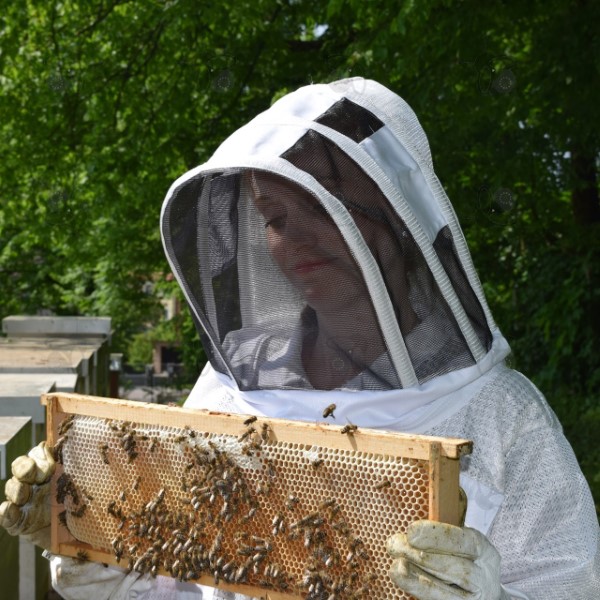 Washing Your Beekeeper Jacket the Right Way
Most options for beekeeper jacket and suits you can find in the market today are machine washable. The only exception is the veil portion that can get snagged or bent by the closures and zippers of the main body. This is the reason why it is often recommended to buy a jacket or suit that comes with a removable veil.
Similar Posts From The Same Category: