Warning
: Trying to access array offset on value of type null in
/var/home/hobbies/public_html/wp-content/plugins/contextual-related-posts/includes/content.php
on line
49
Warning
: Trying to access array offset on value of type null in
/var/home/hobbies/public_html/wp-content/plugins/contextual-related-posts/includes/content.php
on line
49
To sail around the islands, beautiful waterfalls, welcoming towns, and quiet fishing communities in Croatia, you need a yacht, catamaran, or motorboat. Choose a catamaran if you want quality sailing without sacrificing speed, stability, space, and comfort.
Croatia is among the greatest destinations for sailing holidays in Europe. With many options, including motorboats, yachts available for sailing around the Croatian Islands and coastlines, renting a catamaran will give you the best sailing experience and next-level comfort. These multi-hulled water vessels are stress-reducing for the elderly, beginner sailors, and families with kids. With a charter catamaran, explore the beauty of Pula, found on the Istrian peninsula.
Sail to the Brijuni islands and the heavily wooded Brijuni National Park with impressive safari animals. Make for Cres and Losinj in Southern Croatia, rich in Greek history. Further your adventure by sailing to Rab to discover the concealed coves. When nearing Sibenik, sail up River Krka and anchor to view the seven wonderful waterfalls at Krka National Park.
Why Choose a Catamaran?
Catamarans are the best sailing boats in Croatia for various reasons. Unlike motorboats and yachts, catamarans allow sailors to navigate shallow waters, implying they can reach closer to the beach. These vessels feature wide beams that create space for large group sailing and reduce seasickness. Sleeping quarters, showers, and heads are separated, prioritizing your privacy. An anchored catamaran naturally creates a wind blocker, enhancing better sailing on windy days. Despite having twin engines, catamarans have low fuel consumption and can be easily be handled. Moreover, they have flybridges that allow panoramic views of the Croatian Islands and coastline.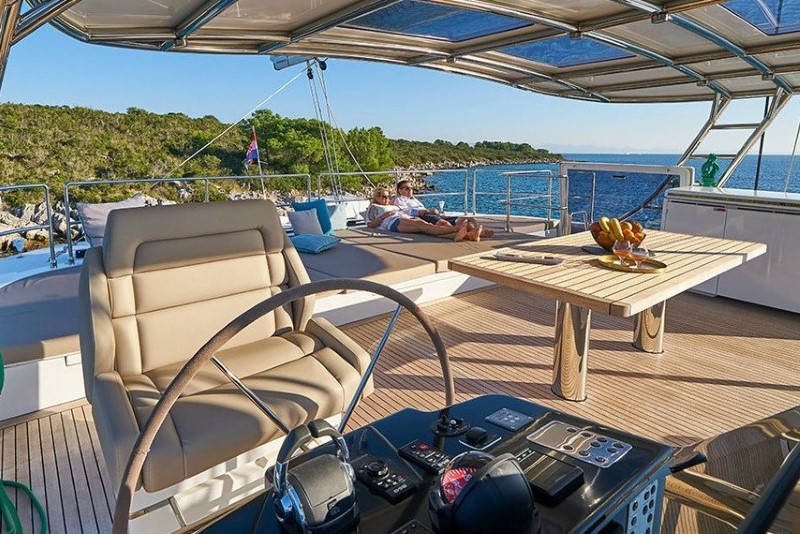 Croatian catamaran charter allows you to choose between skipped and bareboat vessels. Rental catamarans range from 3 to 6 cabin models for one or two people and a large group. To book these vessels, send your favorite provider an email or fill an inquiry form indicating the number of people you will sail with or cabins that will meet your needs. After processing your data, you will receive prices, offers, and details of accessible catamarans. Ask your boat provider for more information about sailing in Croatia and tips on the restaurants and moorings if you are touring the country for the first time.
Do you want a Crewed, Bareboat or Skippered Catamaran Charter?
The choice of a catamaran charter depends on the sailing experience you want. After determining your party's need and the dream sailing experience, visit the website of your favorite boat provider to choose from crewed to bareboat to skippered catamaran charter.  Crewed catamarans have an experienced skipper and hostess involved in cooking, cleaning, helming, and maintaining the boat. Hiring this type of charter can be a brilliant idea if you are planning a relaxing holiday.
The bareboat catamaran has no crew, requiring you to skipper and attend to your needs. The bareboat charter gives you the freedom of sailing by choosing routes with scenery that satisfy your eyes. However, chartering this boat requires you to submit a sailing certificate, proving you are a competent skipper. For a skippered catamaran, you charter a bareboat and request a skilled skipper to navigate the itinerary. A skippered charter is more safe and secure. Moreover, it does not sacrifice your privacy and freedom on a catamaran trip.
The Bottom Line
Chartering a catamaran allows you to explore the secrets of Croatia by sea. With a charter catamaran, you can explore the wonderful scenery of this Europe's greatest sailing playgrounds. Set sail from Dalmatian Coast to Kornati and River Krka to explore the seven waterfalls at Krka National Park, hidden coves and Islands, and unpeopled islands. Book your dream holiday with various catamaran charters in Croatia at competitive prices.
Similar Posts From The Same Category: